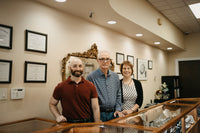 Why Choose Coin & Jewelry Gallery
Whether it's appraising, buying or liquidating a collection, Coin and Jewelry Gallery can help. Our staff is well-versed in everything related to coins, jewelry, bullion or paper money. We also have an in-house GIA-trained jeweler for all of your repairs and custom jewelry needs. 
For the Collector & Investor
With some of the rarest coins and finest inventory available of investment and collector grade coins, let us help you complete your collection.
Unique Jewelry
Coin and Jewelry Gallery offers hassle-free shopping and unique pieces. Come discover exclusive designs you won't find anywhere else.
Appraisals
With over 100 years combined experience, let our knowledgeable coin and jewelry appraisers quickly determine the true market value of your jewelry, coins and paper money. Schedule an appointment today.
What Our Customers Are Saying
Fantastic service, friendly, knowledgeable, and very fair. The have an impressive selection of coins and jewelry and it's a great place to trade bullion. David is an incredibly talented jeweler with beautiful custom work and repairs and is a pleasure to work with. Vince, Ann, and David are great people and the store is the best in town.

Lane Abraben
So pleased with my experience at Coin & Jewelry Gallery. I went to them looking for a very specific style of Christian cross that my wife wanted. Dave Hill met with me and showed me my options before suggesting a way in which he could fabricate her wishes in what turned out to be perfection. I was impressed with his creativity and ability as well as flexibility should I have ended up with something that wasn't just right in my wife's eyes. Certainly a great experience of customer service and expertise!

Jeffrey Malloy
After months of researching online and searching in other jewelry stores for an engagement ring, I was able to pick out a diamond in one trip with the help of Dave at The Coin & Jewelry Gallery! Dave is incredibly knowledgeable, and he was able to answer all of my questions. 

Cory Hodes
Mrs. Ann is awesome and has always taken great care of my family!

Dr. Jordan Webb
I thoroughly enjoy and appreciate going in to trade with Coin and Jewelry Gallery. I am a "dabbler" rather than a serious coin collector, but I am always treated respectfully and get a very fair and consistent price for my coins. I will keep coming back again and again as long as they will have me!

John Fairless
Incredible workmanship, enthusiastic and helpful staff, and great prices. This is the place to go to in Gainesville. Dave, Vince and Ann all know their stuff!

Chuck Tonnelier
I had a very unique idea for an engagement ring which Dave brought to life after I was discouraged by other jewelers. He quickly understood and designed exactly what I had in mind and was honest when I wanted to add details that didn't fit the design of the ring. My fiance and I moved from Gainesville to Denver but we're so happy we reached back out to Dave to make this dream a reality!

Alex Portuondo
We Buy & Sell Gold & Silver